Clearly, I love the Oscars. However, there is one thing I don't love about Hollywood's most prestigious awards. The Oscar Curse. In case you're unfamiliar, it's an unofficial "curse" that befalls the Best Actress winner within a few years of winning the award. The long-term relationship she's in will end. It sucks. But it has happened an astounding six times in the past ten years, most recently to Kate Winslet, who announced her separation from hubby Sam Mendes yesterday, a cool 13 months after the gold guy joined her awards stash. For further proof of the curse, see below:


It all started with Julia Roberts and Benjamin Bratt. She wins her Oscar for Erin Brockovich, three months later they're kaput.



One could point out that the demise of their marriage had to do more with his sex addiction than her Oscar win, but it's all a little too coincidental.
And the roughest break-up of them all: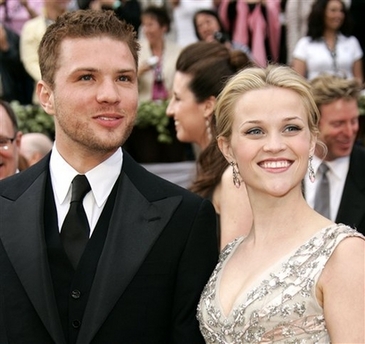 Reese and Ryan (how perfect were their names?!), called it quits 8 months after she won her Oscar for "Walk the Line" (which is my addiction movie, if I happen to catch it on TV, whatever I was doing goes out the window and I watch the rest of it). After winning our hearts in "Cruel Intentions", and then having two adorable children, they broke up. I actually remember getting a few tears in my eyes when I saw this on Facebook (where I get all my breaking news apparently). Definitely the roughest of all Oscar break-ups for me (as much as I like Hillary Swank in Million Dollar Baby, Chad Lowe freaks me out; and I don't really have an attachment to Stuart Townsend and Charlize Theron). Here's hoping that the latest rumor about Sandra Bullock and Jesse James is false, or they would take the cake for worst break-up for me.